Careers
---
Can you make a difference?
Inspiring talents and building excellent leaders.
People are at the heart of Rasmed publications as a company delivering value with every publication. We are an organisation seeking adaptive, goal-driven individuals to attend to our businesses interests.
Available Openings
Position: Social Media/Content Marketer (Entry Level)
Qualification and Skills for Social Media/Content Marketer (Entry Level)
Application is open to BSc/HND holders in Arts, Social Sciences, Humanities or any related discipline.
Applicant must have a basic knowledge of digital marketing, WordPress, or be willing to learn, be social media savvy and highly proficient with the use of Facebook, Twitter, LinkedIn, Instagram, and YouTube, very versed in Copywriting, content creation and editing with an impeccable grasp of English language, writing, the meaning and use of words.
Job Title: * Social Media/Content Creator – Ibadan*
Location: Ibadan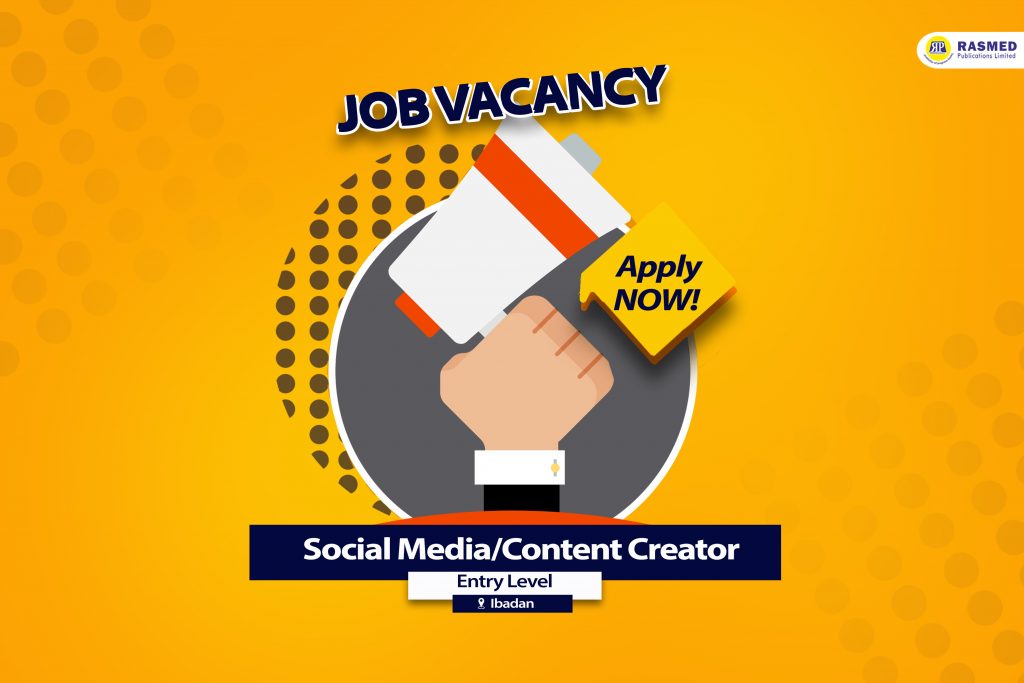 Job requirements
Candidate must be able to create content and publish engaging posts for various social platforms including Facebook, Twitter, Instagram, and LinkedIn.
Must be able to conduct simple keyword research and use SEO principles to maximize content reach.
Must be able to manage develop related content for multiple platforms, such as websites, email marketing, product descriptions, videos, and blogs within established timelines.
Must have knowledge or research on publishing industry trends, movies, news, and very importantly, new and recent social media trends.
Must work hand in hand with the Customer service team to manage marketing campaigns, promote company brand, products and services as well as maintain consistent social media communications and chats as appropriate.
How to Apply:
Interested and qualified candidates should send their CV which must show evidence of projects handled or teams worked with and contributions made to the project (Very important), as well as Social Media handles and links to access past engaging contents to hr@rasmedpublications.com using the Job Title and Location as subject of the email.
Please call 08174615854 for more inquiries.
Application Closing Date: 24th February, 2021
Position: Brand Manager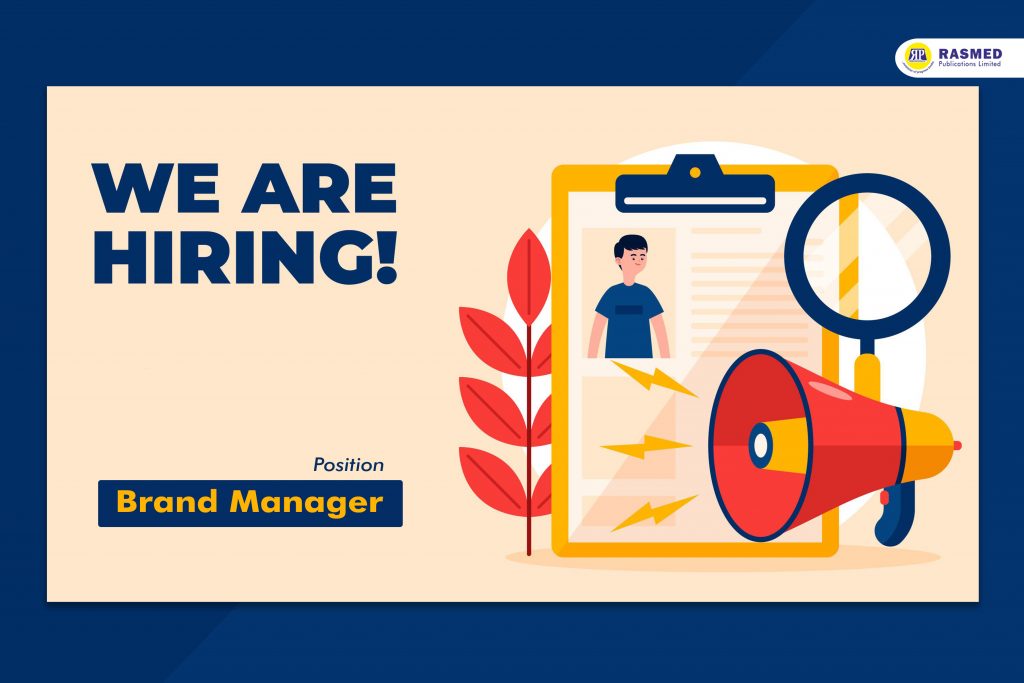 Job Description:
The successful candidate shall be responsible for developing a strong brand reputation, image and credibility of the company's products by working in close proximity with the sales and marketing team to build customer engagement and creatively coming up with strategies that will change how people perceive the publishing brand.
The successful candidate shall oversee Public Relations (PR) and advertising, promotional campaigns and marketing events that result in increased sales, brand loyalty and improved market shares.
The successful candidate shall also be responsible for product research and development, market acceptance, pricing and new product launch as well as developing new business opportunities for the company.
Job requirements
First degree in Marketing, Business Administration, or any Management Sciences related discipline from a reputable institution.
Possession of MBA or MSc in Marketing and Finance an added advantage
Applicants must have at least 4-6 years proven and strong brand and marketing or business development experience, or have worked in a similar position.
Applicant must understand the Nigerian publishing and printing ecosystem and its market potentials, peculiarities and trends.
Candidate must have people skills, excellent communication and presentation skills.
Candidate must be IT Savvy, proficient in the use of MS office suite such as Excel, PowerPoint, MsWord etc.
Candidate must be very strategic, creative, insight-driven and must be ready to build cross-functional relationships and improve customer satisfaction and experience.
Candidate must reside in Ibadan, or be willing to relocate as may be required.
Must have proven experience in successful marketing campaigns held in the past from ideation, implementation to execution (End-to-end).
How to Apply: Interested and qualified candidates should send their applications and CV to hr@rasmedpublications.com using the position applied for, as the subject of the mail. Please note that only shortlisted candidates would be contacted.
Application Closing Date: 29th January, 2021
---
Ready to join the team?
If you are interested in joining our highly esteemed and dynamic team across various functional areas across the country, fill the form below.