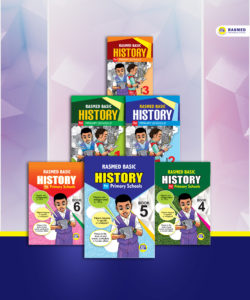 To predict and create the future, we need to understand the past. Understanding the past, too, helps us to understand the present. History provides us with insight into our cultures of origin and also provides us with knowledge of the cultures of other people and other places; increasing cross-cultural awareness and understanding.
For almost a decade, the Federal Government of Nigeria ejected History from our curriculum, and today, the consequences are there to see. And the recent decision to reintroduce the subject has been applauded.
Rasmed Publications, a leading Publishing house in Nigeria has published a fine and enriching textbook on Nigeria History for Primary and Secondary schools.
Rasmed Publications History textbook will help pupils gain a coherent knowledge and understanding of Nigeria's past and present. It will give pupils the knowledge of the past and the past relates to the present. This book will also enable pupils to appreciate the basis of unity in Nigeria. Each book in this series is designed using clear and simple language, combined with highly colourful and descriptive illustrations. Each chapter is concluded with revision questions to help pupils assess themselves on what they learn in each chapter.